Up to 3 people feared dead after East Point fire | News
EAST POINT, Ga. — A fire at an East Point home early Tuesday is thought to have claimed up to three lives.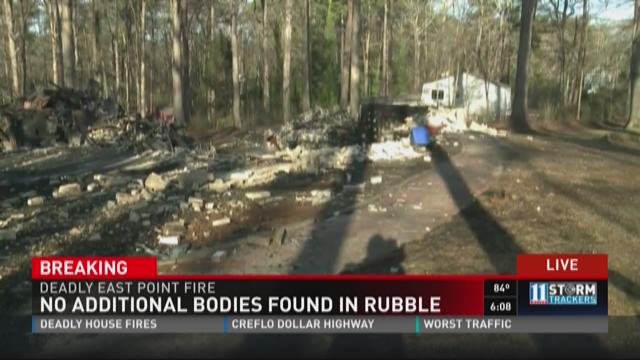 Fire crews were called to the home in the 2900 block of Hogan Road just after midnight on Tuesday as flames engulfed the single-story structure. Firefighters worked for three hours to contain the fire. Two people were able to escape through windows, but they told firefighters three more people were trapped inside.
As the fire smoldered in the background before daylight, Renita Shelton, the Public Information Officer of the City of East Point said the fire was "fully involved" when units arrived. 
Authorities on the scene said they were initially unable to get inside the two-story brick ranch because both the roof and floor collapsed. According to a press release, "The structure sustained 90 to 95% damage, with collapsed floors and roof. The search has been delayed for the three occupants reported as remaining in the home due to the severity of damage and danger of the structure."
Just after noon, reports of one badly burned body being pulled from the rubble came in. It is believed that it belonged to a woman, but it will have to be identified by the Fulton County Medical Examiner. 
Officials continued their search for much of Tuesday for the other two people thought to be missing, but by 7 p.m. authorities concluded that no additional people were in the house.
VIDEO | 2 missing after East Point fire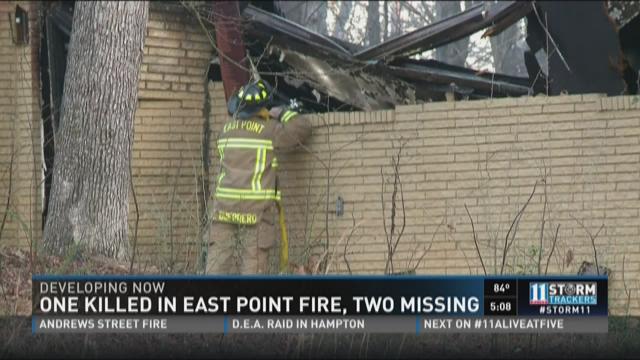 The Red Cross was called to assist the two adults that were able to escape the fire. Some neighbors say the home was being rented out to other people, but the fire department could not confirm that. Regardless, neighbors were still shocked.
"It's sad man, its really sad," one neighbor told 11Alive's Valerie Hoff. "All you can do it pray for their families and hope everything works out." 
Investigators are still on the scene working to find the potential victims and determine the cause of the fire. The fire chief told 11Alive that it does not appear suspicious in nature.