Police: East Point rapist told victims his name | News
EAST POINT, Ga -- Police believe they know the name of a man accused of several rapes in East Point. 
According to the rapist's victims, the man said his name was Antonio Graves and that he is 23 years old. The victims also said the alleged rapist said he had a 10-month-old and contemplated suicide. According to the victims, the information came during a long, rambling, rant from the suspect. While holding them at gunpoint, the suspect told the women he "feels neglected" and "I know you wouldn't talk to me if I wasn't holding a gun to you right now."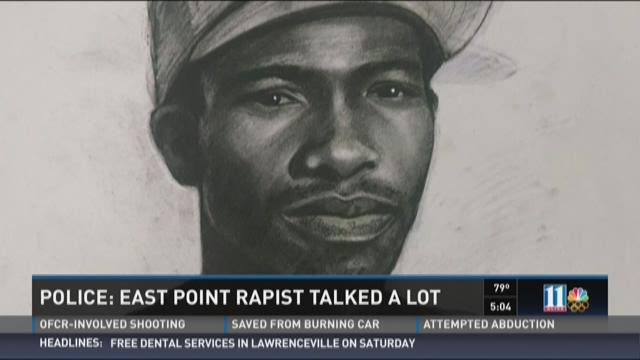 East Point Police Lt. Cliff Chandler said detectives are in the process of verifying the information. 
In recent days, police have stepped up patrols in a neighborhood where three women have been abducted, robbed and sexually assaulted. The three crimes happened in the Highwood Park condominium complex off Washington Road in East Point.
Last week a school teacher was abducted from in front of her condo and forced to drive to an ATM but was able to escape and run for help after the man sexually assaulted her in her car.
On Tuesday night a resident and her friend were abducted from in front of a condo and forced to an ATM to withdraw money. East Point Police say the suspect then forced the two women back to the condo where he raped both of them.
The best lead police have so far is a sketch of the suspect. It was from a description from the school teacher. Some people in the Highwood Park complex said they have never seen the man in the sketch. But, one woman said she may have come face to face with him.
"He came between the bushes and the garage," said Althea Nolton. She described the man she and a friend saw sneaking around the complex last week. "I was looking up at him because I wanted to know who was that close to me," she said. "When I looked down I was like, ooh, because he had a gun."
When Nolton saw the sketch she was shocked. "Yes, that's him," she said. "I won't forget the face, that's him."
Since the latest incident Tuesday night, police have been patrolling non-stop in their neighborhood. They also released surveillance photos of the man from inside the victim's condo.
Patrice Skipper has lived in Highwood Park for 10 years. "These two incidents are the first that have happened since I've been here," she said.
Even with the stepped-up police patrols Skipper said she isn't taking chances. "I've beefed up my security," she said. "And I back my car into the garage now instead of pulling in, so when I let the door up, I can see my surroundings."
Police said the suspect may be targeting women in Highwood Park because he's familiar with the area. They are asking anyone who knows who he is to call Crime Stoppers at 404-577-TIPS (8477).
You can follow Kevin on Twitter @krowson11alive and like him on Facebook