Off-duty officer rescues child after car theft | News
EAST POINT, Ga. -- An off-duty police officer chased after a suspect who stole a car with a 4-year-old inside.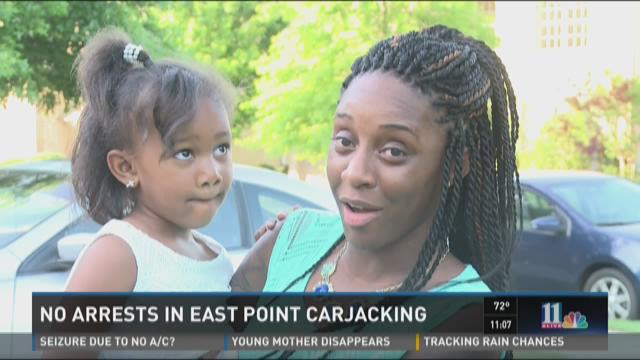 On Friday, Tarena Evans was pumping gas at a RaceTrac gas station around 1:20 p.m. on Camp Creek Parkway North in East Point when a silver four-door sedan pulled up by her.
A man waited until she was finished pumping gas and then jumped into her 2013 Chevrolet Camaro and drove off. Evans's 4-year-old daughter, Skye, was still inside the vehicle.
"Blink of an eye, at the gas pump, my car was pulling off," Evans said.
Then she took off on foot after her car - and after her baby.
"I almost caught him," Evans said, "but I guess he saw me in the mirrors. So he barged through traffic and he sideswiped a lady's car to turn onto Camp Creek."
An off-duty East Point officer who happened to be pumping gas at the same time saw the incident unfold and sprang into action.
The officer jumped into his car and followed the suspect for about four miles down to Campbellton Road. The suspect bailed out of the stolen vehicle and fled.
"Once the perpetrator got out of the vehicle our officer secured the child and took custody of the child until additional officers got to him," said East Point PD Capt. Cliff Chandler.
Authorities are still seeking the suspect who stole the car. They're also searching for the driver of the four-door silver sedan.
In the meantime, the suspect may have gotten away, but at least Skye is back in her mother's arms.
It's the second time in 24 hours a child has been recovered after a carjacking in the Atlanta area. Thursday night, a similar incident unfolded where a child was left near a homeless camp after the vehicle was stolen.