All but one released from hospital after train hits MARTA bus | News
ATLANTA -- Several people were transported to the hospital after a freight train clipped a MARTA bus in East Point on Wednesday.
Five passengers and the bus driver were taken to area hospitals.
A 65-year-old man reported serious injuries. The other passengers injuries are reportedly minor.
Three were taken to the to Atlanta Medical Center main campus. Two were taken to south campus and one refused treatment.
All but the 65 year old male have since been released from the hospital.
Operator Dwayne Magee has also been released from the hospital.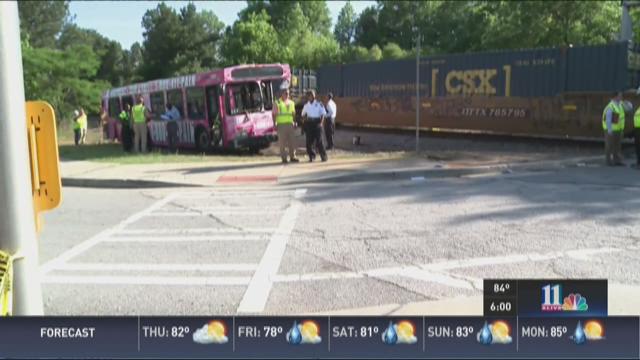 The accident happened at Welcome All Road and Ben Hill Road
According to East Point Police Chief Cliff Chandler, a truck stopped in front of the bus, preventing the bus from clearing the train tracks. The CSX train then clipped the back of the bus.
East Point Police are searching for the driver of a red pickup truck that stopped in front of the bus.
Magee, an employee of MARTA since 2009, has received a mandatory drug and alcohol test and has been placed on leave, with pay, pending the outcome of the investigation.

Stay with 11Alive for more information on this breaking news story. Refresh this page and check our Facebook page for the latest updates.